With the Meetual online
psychotherapy platform,
consult a licensed mental
health therapist at any time.
Qualified and Registered
Therapists
We take mental health seriously. All our psychologists are members of the Ordre des psychologues du Québec and all our psychotherapists have a license issued by the Ordre des psychologues du Québec. All our professionals are rigorously selected.
Meetual offers a mental health professional adapted to you and your situation. Use our search tool to find a therapist for your specific needs.
Sample Reasons
for a Consultation
Personal issues (stress, anxiety, depression, self-confidence, etc.)
Couple and family issues
Professional issues
PTSD
Development/education/ schooling
Difficult situations of life
Food-related issues
Sleep-related issues
Addiction
Violence and abuse
Physical health
And more…
Consult Anywhere,
Anytime
Waiting until the next appointment with an in-clinic psychologist can sometimes be difficult. Start your online therapy now and make positive change in your life.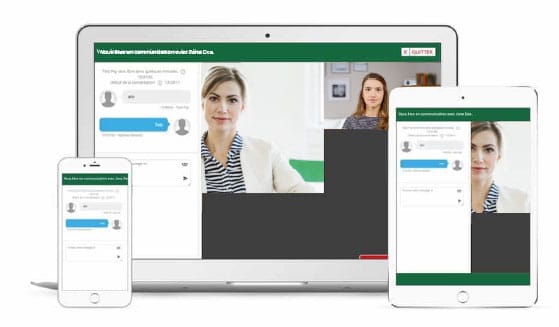 Choose the psychologist or psychotherapist best suited to your needs.
Create an online profile in just a few minutes.
Your session will be booked online and will take place on the Meetual platform via the Internet.
Jump online for your appointment. After your session, you will receive an email with a receipt for income tax and insurance purposes.
Why Consult an Online Therapist?
In addition to its scientifically proven effectiveness, online therapy offers many other benefits. Some people prefer expressing themselves in writing, others are more comfortable consulting by audio or videoconference at home. Online psychotherapy offers this flexibility.
No more commuting, just find an Internet connection to start your psychotherapy. People living in remote areas now have easy and safe access to mental health services.
"Thanks to the entire Meetual Online Psychotherapy team. Without access to the platform, I would not have had the strength to consult."
I am a person who likes to do a lot of things via the Internet and having this chance to chat with my online therapist has been a great discovery for me. With Meetual, it's different because we have the choice to use it from any place and what is great is the ability to schedule appointments quickly. On the other hand, my therapist Paola María Akl Moanack is very competent, I feel at ease with her and she is helping me a lot.
"I was reluctant at first, but I am now on board with the idea of remote therapists. I adapted, as we get used to anything, and I must say that despite the occasional small bugs, I became a loyal customer"
"As a Quebecer living abroad, Meetual helped me to quickly access a French-speaking psychologist, which would have been much more difficult without this type of service."
They are talking about us
"Undeniable flexibility: no need to worry about parking, about managing schedules or about taking holidays."
"A competent, dedicated, passionate and sensitive team with a remarkable vision of the future."